Your dad deserves nothing but the best Gifts for Dads of Nurses, particularly during this holiday season. It's the perfect time to show your appreciation for all the things he's done for you.
Now, if you still don't have any idea what to give him this Christmas, don't worry. We made a list just for you.
And the best part?
You can also use this list in finding the perfect gift for your dad on Father's day or even his birthday!
1.
Men's Proud Dad of a Nurse T-Shirt
Only a few privileged dads can wear this special shirt. After all, how many dads can actually boast that THEIR daughter is a nurse? Very damn few. So, get your Dad this shirt and let him boast to his heart's content.
This comfy and relaxing shirt is available in three colors – black, navy, slate, royal blue, and cranberry. It's a standard fit tee with a vintage look.
2. My Favorite Nurse Calls Me Dad T-Shirt
This shirt's message is just sweet! It doesn't just let your dad boast about you being a nurse but it also proudly tells that you're his favorite. It's definitely one of the best gifts you can give him.
Available in 5 different colors, this lightweight shirt has a classic fit your Dad will love.
3.
My Favorite Nurse Calls Me Dad 11 Oz Ceramic Coffee Mugs
If your dad loves a cup of coffee or tea in the morning, this "My Favorite Nurse Calls Me Dad Mug" is another gift idea for him. A shirt is worn only now and again, but a coffee mug gets used every day. More visibility means more fun times!
This ceramic mug is standard size and is dishwasher and microwave safe.
4.
Fitbit Versa 2
We all know that being physically active is important for one's health. With this smartwatch, your Dad will feel more motivated to move around. It can easily track distance, active minutes, and calories burned.
Additionally, this smartwatch can control smart home devices, too. Cool, right?
5.
"Dad Juice" Whiskey Glass
If your dad hates gifts but loves whiskey, he won't be able to say no to this.
The glass is thick and the quality is nice. Its base is thick for that comfortable and balanced grip. It's perfect for celebrating the holidays and other important occasions with a toast!
6.
Wood Phone Docking Station Ash Key Holder Wallet Stand Watch Organizer
Help your Dad keep all his essential items neat and in one place. With this organizer, he'll have enough space for his phone, keys, watches, and bracelets. It's easy to assemble and very sturdy.
After a long day at work, it's the best spot for your Dad to keep his personal items.
7.
RAK Magnetic Pickup Tool with LED Lights
This is the tool that will complete your dad's toolbox. He'll probably think that it's a joke at first, but once he finds himself struggling to pick up a nail or a screw, he'll love it.
The magnets work really well and the built-in LEDs provide just the right amount of light to brighten dark areas. It can extend to help you reach really difficult spots.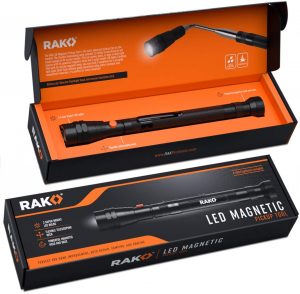 8.
FreshJax Grilling Spice Gift Set
Whether your dad's a pro in the kitchen or he simply loves grilling, he'll appreciate this gift. The flavors are nice and they're all organic. There are no artificial flavors, fillers or chemicals in each bottle.
9.
Men's Warm Memory Foam Slippers
After working hard all day, there's nothing better than coming home to a nice, comfortable pair of slippers.
Made with memory foam insoles, these slippers can make your Dad feel like he's walking on clouds. They mold to one's feet, providing not just comfort but warmth, too.
While we sometimes suffer from irritating patients or patients' relatives or get uber tired from work, we know that our Dads are very very proud of our chosen profession. They support us and have our backs.
So, don't forget to prepare Gifts for Dads of Nurses today. It can be any of the gifts for dads of nurses above or any gesture of love from you!